The time you spend reading this sentence is enough for a user to leave a website that takes time to view, especially if he or she uses a mobile device.
Consequences?
A bad start for the user experience, nobody likes to wait for the content to load, and a logical increase in the bounce rate, which will negatively affect sales and SEO.
We've said it many times, and we won't tire of repeating it, the loading speed of a website is crucial, to the point that it is one of the factors Google relies on to determine its famous ranking.
Then you will think: "well, I hire a hosting that ensures me great speed and so I don't worry about anything", but the thing is not so simple. The quality of hosting is determined by another aspect more important than speed, it is the one known as uptime. This term refers to the service availability of the server, that is, the time it is working without interruptions.
Every year we carry out tests in which we analyze the performance of the most popular hostings in the market, so that, in case you want to change or hire one, you can choose it knowing that you will make the best possible decision.
In this study, we check which ones have the best figures in speed and availability. Before, we will briefly explain these two aspects so that you can better understand the results and conclusions we have reached.
Remember that, if you are thinking of changing your hosting or hiring a new one and you need advice, thanks to our hosting comparator you will find the one that best suits your needs.
The loading speed
We mentioned at the beginning how important it is how fast your website loads, especially from mobile phones. I'll put this in context with some data: in 2018, 58% of web visits were made from a mobile device and the total bounce rate was 50% according to Stone Temple.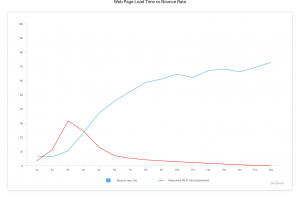 Charging time vs Bounce rate Source
As you can see in the graphic above, for a user who navigates with his mobile phone while walking down the street, waiting more than 3 seconds for the web content to load is too much. From then on the bounce rate shoots up.
Did you know that this affects the engagement and, therefore, the SEO of your website?
Google values user engagement very positively to the extent that the higher it is, the better it's positioning in SERP results. And of course, retaining users is key to improving conversions. If your website is slow, you'll get less revenue. Can you imagine your e-commerce falling for hours? Not even in your worst nightmares.
But the speed of a website is not only determined by the hosting, but it also depends on the physical place where your website is hosted. An example: if you visit a page from England and the server is located in London, it will load faster than if you visit it from the USA. This great distance that separates them affects negatively so it has to be taken into account.
You can enter Test My Site from Google to check the speed of your page on a mobile device.
Server availability
As we mentioned before, the term uptime, or availability of hosting, is what guarantees the stability of a website. The ideal is that its opposite, the so-called downtime, time in which a server is out of service or inaccessible, is as short as possible. Nowadays most hosting providers should offer an availability rate from 99.95%. This means that your website should be down at most 0.05% of the time.
And you might be wondering: why don't they guarantee 100%? Because there are external factors that are beyond our control, and the reasons why a server may be down are many. We're sorry to be catastrophic, but we've seen things you wouldn't believe: from servers down in a fire to power failures. You can also be the victim of a hack or a Denial of Service (DoS) attack on one of your servers to steal data. We know, shit happens.
That's why it's essential to have monitoring software that sends you alerts every time your site goes down (e.g. StatusCake).
Regarding the aspects that we do control, it is possible that the hosting infrastructure is insufficient, as it happens in some shared hostings with overload, or that the support is bad. We will comment on these aspects at the end of the article. In any case, the hosting provider has to offer a good service, attentive and constant in case, for example, you have an increase of traffic and they have to recommend you an upgrade of your hosting plan to support these new numbers.
And now, drum roll, let's go to the final results!
Results in speed
Of course, some days the servers work better than others. That's why we've conducted 5 rounds of testing over a period of about 2 months. We have created the same test page for 9 hosting providers at the same time and under similar conditions. In order not to favor any one provider, in particular, we averaged the results by combining several locations and using tools such as GTmetrix, Pingdom, and Webpagetest. Above all, Fairplay.
Here is a graph comparing the average results for 2018 with those for 2019
Hosting
Location
Charging time 2018
(in seconds)
Charging time 2019
(in seconds)
SiteGround
Holanda
1,01
2,10
Raiola Networks
Francia
1,18
2,17
Hostinet
España
1,73
2,26
Webempresa
Francia
2,06
2,45
Factoría Digital
España
1,06
2,47
Hostalia
España
2,72
2,63
GoDaddy
Holanda
2,32
3,1
Bluehost
Estados Unidos
9,29
3,84
Hostinger
Gran Bretaña
Not included
4
Note: In general the loading times in 2019 were slower than in 2018 because we decided to use a heavier demo page.
At first glance we see that, in general, there has been an increase in loading time compared to last year, leaving all suppliers above 2 seconds. But this is due to the fact that the weight of the web demo in this test has been greater.
SiteGround continues to be the undisputed leader, although followed by Raiola Networks, which has climbed from third to second position.
Special mention to Hostinet and Webempresa that are in a very meritorious third and fourth position, when in 2018 they were in sixth and eighth respectively.
From my point of view, for price and fame, I expected a better position for Factoría Digital, which has gone from second to the fifth position.
I was struck by the fact that, unlike the others, Bluehost was the only one to improve its results over the previous year. Even so, it is still the last one in the row, partly because its servers are located in the USA and our tests were done from Europe. It's still light years away from the rest.
Availability results: we look for reliability
The tool we have used to measure the availability of the websites has been StatusCake, free, and quite complete, I recommend it. There are others such as Uptime Robot, which is more expensive, or Pingdom, which is more confusing, but all of them have a free plan. These are the results obtained:
When making the test, we have taken into account the availability of providers for 12 months, except for GoDaddy and Hostalia that has been 3 months.
Hosting
Availability
2018
Availability
2019
Webempresa
99,97
99,99
Raiola Networks
99,94
99,99
SiteGround
99,99
99,98
Bluehost
99,99
99,98
Hostalia
99,99
99,97
GoDaddy
99,98
99,97
Factoría Digital
99,84
99,95
Hostinger
Not included
99,78
Hostinet
99,97
99,62
Overall, of the 9 hosting providers analyzed, almost all have improved results over the previous year and only three have been equal to or below 99.95%. These are good figures, but we are always looking for perfection. Hostinger, Hostinet, and Factoría Digital have not passed the cut. This last one has called our attention especially because it is one of the most expensive.
In the first position is the Spanish hosting Webempresa of which we already spoke previously and whose strength is the customer service with a team available 24 hours a day. Tied with it, offering an incredible 99.99%, we have Raiola Networks.
It is surprising that SiteGround was the only one to drop a tenth from last year, yet it remains in the third position with remarkable results in availability and tied with BlueHost. With all this data, I think we can already draw some conclusions, but first…
Final points to consider
The speed and availability of the hosting are key factors when choosing a hosting but you should also take into account other aspects. As it is logical the price is something in which we cannot avoid to fix, but many times the companies are not conscious of the usability. Exactly, not all servers offer the same ease of use. There are control panels that are less well designed than others and it makes management a mess.
Earlier we mentioned that cyber-attacks are commonplace. For this reason, it is essential to hire a hosting that offers you great security. Very useful measures such as antivirus or firewalls are key to avoid surprises in the form of extortion or data theft.
And what do you do when you have a problem? Here another factor comes into play that you should pay attention to support.
Some hosting providers respond in less than 10 minutes, others have no phone service, some operators do not speak your language or are not very polite. Believe us, knowing that there is always someone looking after your server in case of unforeseen events and that you know they are professionals, will make you sleep more peacefully.
Final conclusions, which is the best hosting?
After the study was done, if we had to recommend our winning horses, SiteGround, Raiola Networks, and Webempresa are the best by performance.
Very remarkable is the role of Raiola Networks, which has managed to position itself second in both tests. Despite being a little more expensive than the rest, SiteGround is another safe bet. As we mentioned in our article, it is hosting with great capacity and many advantages.
If, on the other hand, the price is a critical factor in your choice, we recommend Hostalia, whose results have surprised us positively.
Factoría Digital is another good option, but for the price in which your service moves should have a performance similar to the first three. The data of the rest have been too poor in terms of speed and/or uptime to be included in our final ratings. Definitely Hostinger will not be one of the options we will recommend.
What did you think of the results? Have you hired any of these hostings and were surprised by the final ranking? Have you been heartbroken and are you going to change your provider? Tell us about it in the comments section!