In this article, I will analyze and compare exhaustively what I consider to be the three best WordPress hostings to host your website, after years of experience working with many of them: Raiola Networks, Webempresa, and Siteground.
Finding the best WordPress hosting for your website is essential for SEO
Therefore, at the end of the analysis, you will have a clear idea of which hosting to hire for your WordPress website, that is, which one is the best for your budget and specific needs, whether you are going to make a website for your company or a freelance project, such as a blog, an online store, an affiliate site, AdSense, dropshipping, etc.
Before choosing any cheap or free hosting that can give you security and performance problems (bad for SEO positioning) and make you waste your valuable time, take note of the comparative analysis and advice I'm going to tell you in this post. I assure you that it's worth it.
How will I do the analysis of each WordPress hosting?
For the detailed analysis of each one of these hosts, I will do speed and performance tests and show you the results so you can choose the best hosting for your WordPress.
The measurements I've done are real tests on 3 similar hosting packs in each of the best WordPress hosting companies.
Why is it so important to choose the best hosting for your WordPress?
Choosing the best hosting (as well as the domain) is very important if you work on WordPress. Hosting is what makes your website available to everyone 24 hours a day, 7 days a week. That's why the decision to select the best hosting is crucial to achieving your goals.
Your website has to load fast and work well at all times, with no downtime or security issues. The success of your project may depend on this. A website in a fast hosting offers a better user experience and benefits your positioning in Google.
Choosing the best WordPress server is essential for the success of your project
I insist: it is essential that you take into account the importance of good hosting service for the success of your web project. For this reason, I don't recommend you too cheap hostings as they are full of problems, they are slow and offer poor support.
At the moment of truth, these aspects are very decisive and you will be glad to have invested a little bit more in your hosting in exchange for security, support, performance, and positioning.
What are the three main criteria when choosing the best WordPress hosting for your website?
1. Performance and speed for user experience and SEO
Super important. A good WordPress hosting will serve your website quickly so that users can see it immediately, without unnecessary waiting. In addition, loading speed is an important factor in SEO today. Google likes websites that load quickly and smoothly.
Therefore, fast hosting will help you to position better and you will get more success and profitability in your project thanks to SEO. In the analysis below I will make a detailed speed study of the selected hostings.
2. Security to avoid attacks and vulnerabilities
Crucial. Secure hosting is synonymous with peace of mind. There are more and more WordPress sites every day, which means that the threat to sites developed under this technology is growing.
Secure hosting has filters and detection systems that will prevent attacks of all kinds. This way, your content, and your business will be safe on the Internet.
3. Support to solve any problem easily
Another essential aspect when evaluating the quality of hosting. Good support service is something very valuable, especially when you have doubts or specific problems. Quality hosts have experts attending to your needs, and they will fix anything you need quickly and efficiently.
Believe me, when you need it, it's nice to have professionals helping you.
It's great to have automatic backup services so that your site is safe and you can restore it in case of problems.
There are also very beneficial services such as advanced caching systems to improve performance, automatic image optimization, one-click migrations, security filters, one-click installation of WordPress, the possibility of making more than one website on the same hosting, etc.
The hostings I'm going to compare in the next advanced analysis have these features and many more, that's why they are the 3 best WordPress hostings, according to my experience.
But… Of all of them, which will be the best WordPress hosting you can choose to host your website and guarantee the success of your web project? Keep reading and you will know the results.
What is a Hosting, server, or web hosting?
A hosting (or web hosting) is a server on which your website is hosted so that it is available to everyone at all times. There are several types of hosting: there are shared hosting, VPS, and dedicated servers.
For simple websites, shared hosting is usually sufficient. In this article, I will write about the shared hosting plans of these companies (although they also offer other plans for more advanced projects).
In this web page that you are reading, because it is well-positioned in Google, I use a VPS Optimized Hosting service from Raiola Networks, which gives me that plus I need of speed, performance, and support. However, the other options are also very good and offer similar plans if you need them.
What is WordPress Hosting and why is it important to specialize in hosting for WordPress? 
A WordPress host is a host that supports the WordPress CMS system. Besides this, a good WordPress hosting offers perfect performance and specifications for the operation of the CMS, and not all hosts give this good performance for WordPress, even if they say so in their advertising.
To host WordPress you will need PHP and a MySQL database. The three companies I will analyze in this article offer specific services for hosting WordPress.
They also offer a quick and easy installation of WordPress from their control panels with a few clicks, which saves you the cumbersome process of uploading files, creating databases, users, privileges, editing the wp-config.php file, etc.
If you're interested in learning more about installing WordPress, you can read this guide on how to make a web page with WordPress. The whole process is well explained in this guide.
You can also read my article on how to install WordPress quickly and easily.
And now, I will review each of the three WordPress servers that I consider better to work with professional projects, which I affiliate with this article because I put my hand in the fire for them given their quality. Let's get started:
What are the three best WordPress hosts in my professional experience?
Raiola Networks offers more than 500 types of domains and if you register a .es domain you get it for free with your hosting account.
SSL certificates cost from $19.95 per year, up to $179.95 per year for an EV SSL certificate.
SSD hosting plans cost from £5.95 per month to £11.95 per month for a more advanced plan, with 30 GB of storage.
On the other hand, VPS SSD servers or virtual private servers are stored on a physical server, so they function as a separate server for your exclusive use, offering you excellent responsiveness and therefore greater control of your data. I recommend them for those sites that expect high traffic and higher loading speeds. Plans of this type are priced from $9.95 per month to $15.95 per month, depending on the individual needs of each website.
Dedicated servers offer the most power in terms of servers. These are exclusive and very powerful servers, so their cost is higher. They offer many more customization tools and their improvement depends almost exclusively on your budget. Raiola Networks offers an impressive variety in its dedicated servers, with many extras included in the service such as DDOS and firewall protection, optimization and personalized advice.
One of the advantages of choosing Raiola as your hosting company is that they have the ability to take care of the administration of your hosting, either totally or partially. Among the global services they offer are server monitoring, backups, maintenance and support, optimization, updates, modifications and changes in configuration, protection, and 24-hour contact availability.
Being WordPress the most versatile and famous tool, this company offers a series of services exclusively dedicated to users who opt for this plan, in order to keep the installation with the most efficient performance possible and working as it should. The services include discounts for using the hosting service and the services. Services included:
Optimize WordPress to increase loading speed and reduce CMS resource consumption on the server.
Disinfection of WordPress to clean up facilities and remove Malware or other recorded vulnerabilities.
PageSpeed enhancement including review and audit of key points to improve Google's score in this category.
WordPress Security, a service that provides a complete review and configuration of WordPress to secure it against malicious hackers and bots.
Audit of WordPress plugins to ensure that these tools are safe, perform well, and are technically feasible.
The contracting of these services is done in a personalized way so it is necessary to contact the provider for an offer for your particular website.
If you already have a hosting company and would like to switch to Raiola Networks, the process is much easier than it seems. Raiola has a migration service that offers advice on this subject, including technical advice, not to mention that the process is very fast compared to other providers.
In addition, they have a monetization program for their clients of between 25% and 20% depending on the service contracted through marketing affiliations.
In short, an excellent WordPress hosting with premium performance and unbeatable support service that helps you at all times.
Webempresa is another of the most popular companies among users who want to develop a website and one of the most chosen options by web development professionals.
Among the main characteristics of this company we have that their standard is customer service, because they boast (and rightly so) of having one of the best technical support services, available 24 hours a day and super-efficient.
From my own experience in many web projects, the support service is really good: they solve any doubt or problem in minutes, with real involvement from their agents. This is priceless. Besides, Webempresa is the hosting we recommend in the WordPress Course we do in Aula CM, where students make their own web in a practical way.
Another key aspect is its speed: it is a really fast hosting and that is an advantage for positioning in Google, that is to say, it is one of the best hostings to optimize the SEO of your web. They mount high-quality equipment, which is a guarantee of good performance.
This provider is backed by its 36,307 clients, "Happy and content", according to their website. They offer 8 different hosting plans to better suit the needs of each client and their prices range from $79 per year to $250 per year. In addition, they are offering a 20% discount on all their plans, from the most basic to the most advanced.
One of the advantages they offer is a 99.9% uptime guarantee on all their plans, that is, the websites hosted on these servers are online practically all the time and this is possible thanks to the quality of the equipment they use, which ensures they are the best in the market.
SSL certificates are free, they also offer unlimited WordPress installations and the monthly transfer has no limit per number of visits.
In addition, they have a 100% money-back guarantee for the first 30 days if you are not satisfied with the service, although this is unlikely due to their quality and performance. This shows that they are really confident about the quality of their service.
Another super interesting detail is that they offer backups every 4 hours, which is life insurance in case you accidentally lose your content or make a serious mistake, being able to restore the website on the day you want through a calendar. More highlights: special anti-hacking measures and free image optimization to get high scores on Google using the IMG Optimizer tool, a very effective application that saves you hours of image optimization.
As if all this wasn't enough, they also offer advice on installing the HTTPS certificate, which is crucial for improving the security of your site.
In addition, the migration service is totally free with the contract of a plan and they do it in a few minutes, which will save you from having to migrate your website by hand, which is sometimes a very complicated process and full of possible failures.
Security is one of the priorities for Webempresa, given the immense variety of services they offer to ensure this point. In addition, these measures undoubtedly surpass the measures of the competition, starting with the incredible period of support in all their plans.
As Webempresa knows the popularity of WordPress it has dedicated specialized and secure servers for users, with configurations optimized for WordPress.
On the other hand, not all the servers are located in Spain and do not offer the feature of being able to decide where to host your servers, although they more than compensate for this with optimal performance.
Finally, if you are one of those users with little technical knowledge in the matter, the service provided by Webempresa is definitely the most appropriate for you. Webempresa dedicates a large part of its staff to provide individual consulting services for each of its clients' concerns, in addition to providing almost immediate support for their requests.
Beyond that, the company has dedicated itself to strengthen in the first place its approach to the market of the inexperienced in the area, highlighting its excellent strategy of positioning valuable content on the Internet.
In terms of price, the costs of this provider tend to be slightly higher than those of its competitors. A point that can play against first, although many users prefer to pay a little more for the peace of mind it offers them in terms of security against attacks, multiple daily backups, technical service, and impressive uptime.
In this post, I tell you a lot of tricks to optimize the speed of your WordPress web in Webempresa with a real example.
Definitely one of the best WordPress hosting you can hire for your website.
Another of the most famous hosting companies in Spain is Siteground. It has nearly 200,000 domains and has been on the market since 2004.
Among the main features, we have that it offers a one-click installer and free migration, only that they do not include the transfer of domain or email accounts.
In addition, all its plans include automatic WordPress updates and allow it to be managed by WP-CLI commands. Domain names are free and unlimited email accounts, with no database limits.
They primarily focus on the speed of your server, ensuring that its speed is powered by a SuperCacher to provide the speed that is unmatched in the market. In addition, they have a Git test and integration mode in several of their plans.
Their plan prices start at $3.95 per month for web hosting on their basic plan and up to $11.95 per month for the more advanced plan (for WordPress hosting). Dedicated hosting plans start at $179 per month and can go up to $336 per month for the more professional services. There are regular discounts for new clients on their first payment, according to the service you contract. In addition, there are several individual upgrades that you can include in the plan you hire.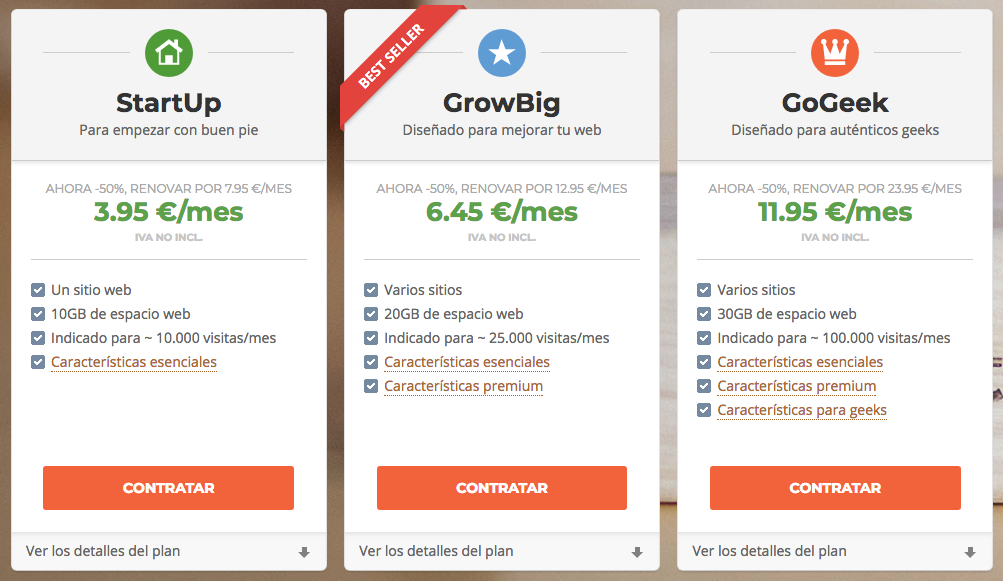 Siteground is, along with the above, a specialized WordPress hosting, so you should also take them into account when looking for a hosting for your website. The technical service is also quite good as they ensure a first response by the ticket service in just 10 minutes, and immediate response through the chat and phone line.
Siteground uses technology that ensures a fast and secure website, as they use SSD in all their plans and the automatic compression option if you need it. The SSL certificate is free as well as automatic updates; they ensure that they have the most stable platform on the market and their own security standards.
This company is characterized by being specially designed for WordPress clients so they are constantly conducting high-quality webinars, with topics such as SEO positioning, speed optimizations, and others.
The option to optimize the hosting is quite wide in Siteground, they have a lot of tools that you can learn to use in their own tutorials, in case you need them.
On the other hand, they have servers around the world and allow you to choose the country where you want to host your website, so as not to affect negatively your ranking in search engines. However, they do not have servers in Spain.
As for their uptime period, they offer a 99.9% guarantee. They promise to return part of your fee in case it is less than the promised one. The backups are daily and, with some plans, they allow you to manage your backups directly. In addition, they also promise to give you your money back for a period of 30 days if you are not satisfied with the service they promise. As if all this weren't enough when it comes to web space they usually offer more gigs than their competitors.
One of the best features of Siteground is that they allow you to manage the performance of your website. This allows you to know exactly how the page works. From the memory used to the current consumption. In this way, it is easier to carry out the pertinent actions, if you have some knowledge about the subject. In addition, the Account Stats system allows you to observe many interesting statistics.
Without a doubt, a great WordPress hosting at a very good price.
In-depth analysis of the three best WordPress Hostings on the market
Before testing with these three WordPress hosting companies, I contacted each of them and asked them for access to the test. All three of them answered very kindly and left me a temporary account to be able to do the tests.
The first thing I did was to install WordPress on each of them. I did a manual installation of WordPress: uploading the WordPress folders by FTP and creating a MySQL database. This process was of course smooth in all three hosts. Uploading the folders by FTP was also quite fast. And as for the MySQL database, I could create it in the cPanel of the three hostings without problems too.
After having WordPress installed in the three hostings, I put the basic Twenty Sixteen template and uploaded the same 24kB image (WordPress logo) to the default entry.
And after that I started to do my tests. First I did the loading speed test using the online tool from Pingdom. I did the tests twice to compensate for the fluctuations and to get a more approximate average. I chose Stockholm, Sweden as the location for the test because of its proximity.

Loading speed
These are the results of my load speed tests on each of the hosts. As you can see, the loading speed in all three is really good, also taking into account that I haven't carried out any speed and cache optimization using plugins like WP Rocket, with which you can speed up the speed considerably.
Here are my conclusions about the load speed analysis:
Of the three, the fastest has proven to be Raiola Networks, with about 245 milliseconds in the second measurement that are really spectacular. Raiola Networks is the hosting I use in this blog you are reading right now.
As for the overall rating of the tool, taking into account other factors besides speed, the best has been Webempresa.
It must also be said that, despite not being outstanding in either speed or performance, Siteground offers some very balanced metrics that make it a very good option as well.
Server performance
After the speed tests of the hostings, I did the server performance tests. For this I installed the Benchmark plugin, an application used to measure server performance. These are the results:
Analysis with a Benchmark Script
Another test I have done to measure the performance of the servers of these three hosting companies I have carried out by uploading a PHP script to the root folder of the three installations and I have made some tests with it.
This script does the tests automatically when you visit it from your browser and analyze several technical parameters (you can download it here).
Conclusion: Which is the best hosting to host your WordPress?
If we closely examine the characteristics of the three WordPress hosts analyzed, we can see that each one has defined its target audience very well.
For this reason, they have enhanced a series of qualities that make them stand out from the multitude of hosting companies. So each one has its own advantages.
| The fastest WordPress hosting | The WordPress hosting with the best overall score and support | The most balanced and economical WordPress hosting |
| --- | --- | --- |
| | | |
|  71,4€ / Año |  79€ / Año |  47,4€ / Año |
|  Contratar |  Contratar |  Contratar |
Therefore, the choice of one or the other will depend on your own needs, your knowledge of the technical aspects and, of course, the amount of money you can invest at the time of contracting the service.
In general, I recommend you examine very well the number of websites you can host, the hosting space provided by each of the plans, and finally, the number of visits that support that hosting plan.
And, of course, take into account speed and performance, support, and security as key points.
It's also important that if you already have a hosting provider and you're thinking of switching to one of these three, take a good look at the free migration options that each one offers.
In addition, I recommend you to use hosts that have an uptime of more than 99.5% of the time, that is to say, hosts that spend very little time in maintenance tasks, which avoids that your web falls in precise moments.
In short, we are probably facing the three best WordPress hosting services you can hire for your website and that makes it worth paying a little more in exchange for having your website safe and in the best conditions of speed, performance, and support.
What WordPress hosting do I use?
I particularly, after analyzing all the hosts, decided to stay with Raiola Networks' optimized VPS service for its huge quality, speed, performance, and support, as well as its security. This decision was undoubtedly one of the reasons that led me to achieve the goals I had with my blog since I started a few years ago.
Note Hostings for WordPress that I don't recommend and that have given me some or enough problems in projects with clients, either because of their slowness, insecurity or insufficient support service for my professional needs: Hostinger, Arsys, 1&1, Access, Hostalia, Nominalia, Piensa Solutions, Strato, Godaddy, Don Dominio, Arsenet, Profesional Hosting.
What did you think of the analysis? Which is the best WordPress hosting for you?
Leave me a comment and I'll be happy to answer. Tell us your opinion or share your experience with other users. Any discussion is welcome, except if you are the commercial of a hosting and come here to advertise your product or speak ill of the competition with strictly promotional interests.
FAQ
What is the most important factor in choosing the best hosting?
To choose the best hosting for WordPress the most important thing is to take into account performance, speed, security, and support. All these factors are decisive to work in a professional way and have a good SEO positioning
Is it worth hiring a free hosting?
To create a professional project, it is recommended that you hire a professional and quality hosting that allows you to achieve your goals and does not give you any problems of any kind. I do NOT recommend a free hosting
Can I manage the hosting myself even if I am not an expert?
Yes, all quality hosting has an intuitive user panel and a support service that helps you at all times. You will no longer depend on a computer specialist who charges you for managing it and you will be able to control everything yourself